| | | | | | | | | |
| --- | --- | --- | --- | --- | --- | --- | --- | --- |
| photos of the house | prices and bookings | maps | weather | photos of the village | historical strall paths | swimming spots | outdoor activities | cultural events |
| | | | | | | | | |
WEATHER
šššššššš

šGinestas enjoys a mediterranean climate. You will find below a board of average temperatures raised in ginestas over several years.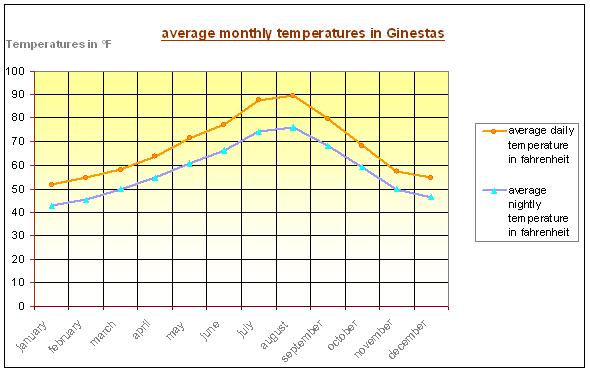 Spring (from mid-march to may) is very pleasant. Marguerites then poppies cover the countryside, if you speak about aesthetics it is absolutely the most beautiful season. The temperatures approach 65-70 °F (20-25 °C), evenings are cool yet pleasant.
Summer (from june till september is warm and dry, especially in august when the thermometer can reach 90 ° F (40 °C). Nights remain warm.
Autumn (from october to december) is changeable, but there are still more sunny days than grey days. In october, indian summer settles down for the grape harvests. red and orange tints of broad-leaved trees and wineyards spread all over the countryside, it's also a very beautiful season. Naturally, evenings and nights are cool, but even in november or december, temperatures can be pleasant during the day.
Winter is very short (from january to mid-march) and often offers beautiful sunny days. When the sun goes out, the temperatures is situated around 50 °F (15°C), nights are colder in winter, but it rarely freezes.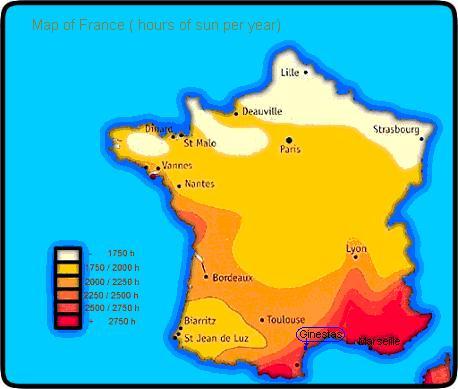 Ginestas is blessed with 300 days of sun a year !
šššššššš